ARTIST L. Nagy Judit – LNJ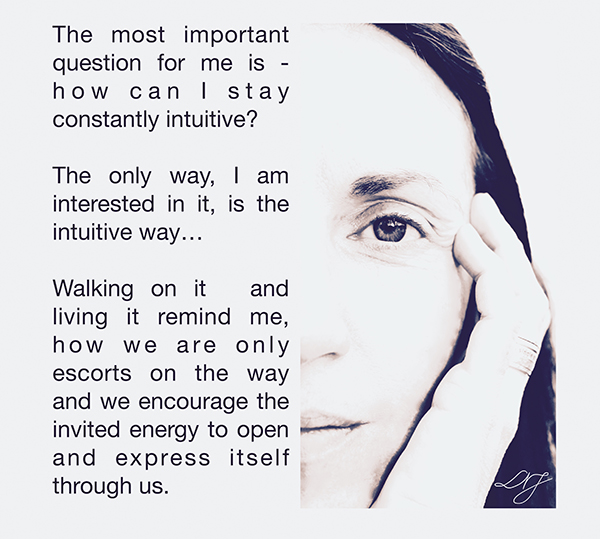 Judit Nagy L. is a contemporary painter based in Zurich. Her paintings are infused with the experience of wine. I think Judit may be the only painter in the world that has found this niche market. I was very curious and set about asking some questions.
"My first memories were a kind of conscious self-reflection, springing from very early childhood. Memories as a four to a five-year-old little girl, her self-definition of self-realization are full and complex.
Thinking and living in visual creativity, her heart and head are full ideas, calling to be materialized and realized in the physical world. Many sketches, paintings, and sculptures formed the groundwork for later work. Working in plasticine as well as big castles made from the earth and later sewn objects all contributed and propelled ideas."
LNJ is not just a painter, a visual artist, but she is a creative person who moves forward by inspiration:
She knows deeply that painting, like all creative activities, is "just" one tool that leads to self-expression and self-development.
Judit knows that in reality we do not 'create', but we are more of a co-worker in the process of creation, which we embody. We draw out what is already present. For her, success is not driven by marketing, rather, she believes in the value of both uncompromising and high quality.
Judit strives to develop her own expression with deep sincerity by reflecting the spirit of the place she inhabits and seeking her own destiny.
Judit`s artistic self-declaration, 2019
My wine painting journey started 8 years before, shortly after I walked the Camino 2011. So much learning, trial and errors happened to get to my skill set today. I'm looking forward to seeing what the next 8 years holds!
"My most important goal is to project into my images, the deepest structures and wonders of the created world which exist. By my WINEporTRAIT- s I'm looking not only for the complexity of the wines, but I am seeking for the 'truth' that touches us in wine. There is the chance of a heart-touching encounter when one is open to receive the message expressed by the real wine. I want to warmly touch a viewer's heart and soul."
The most important question for me is this: how can I stay constantly intuitive?
The intuitive way allows me to get to the centre of the picture without distraction.
Walking this road reminds us that we are only escorts on the way, and we encourage the invited energy to open and express itself through us.
The intuition-based path is a path of trust, faith and love – a visual storytelling to express my deepest impressions of the world.
"In the wine, there are ups and downs,
The wine is an art, a knowledge, a humbleness, a prayer of honor.
The wine is a gift of God and People.
The wine is a truth."
(L. Nagy Judit – LNJ)